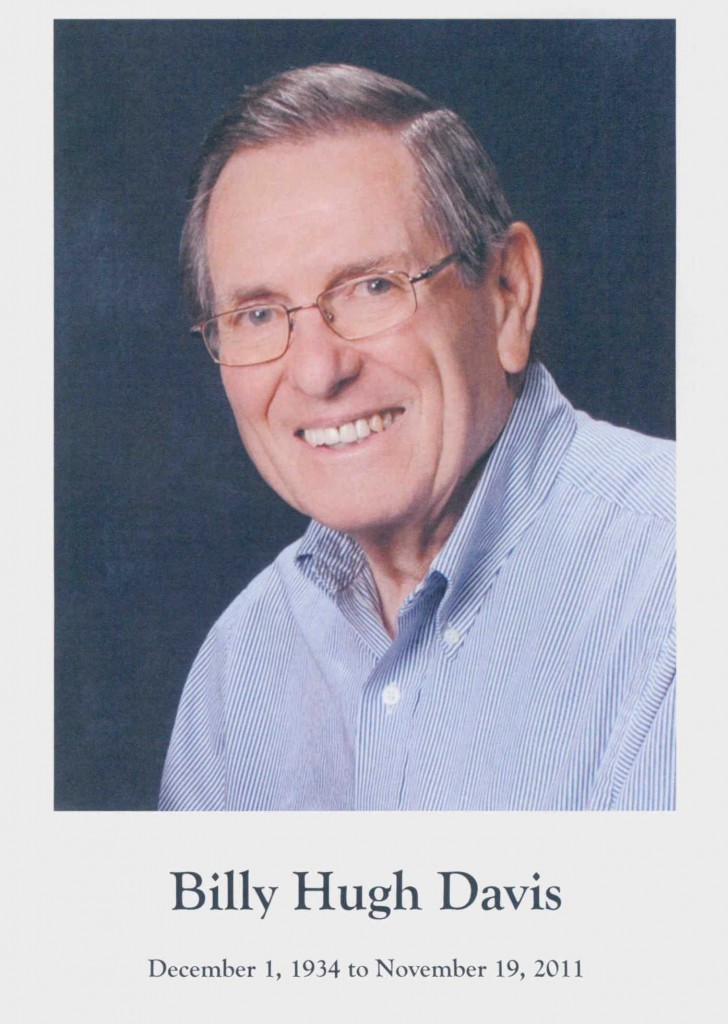 1934 – 2011
Billy Hugh Davis was born December 1, 1934, at Foreman, Arkansas.  He lived there until he moved to Oklahoma City, Oklahoma in 1955.  In that same year he was baptized by Johnny Elmore.  He soon took an active role in church work.  In 1965 he began full-time preaching.  Since then he has worked with congregations in West Virginia and Louisiana.  He has also held Gospel meetings in various parts of the country.  For the past five years he has lived in Malawi, Africa, where he is engaged in mission work.
He was married in 1965 to Daisy Spradley.  They have two daughters, Connie and Kay.  Daisy is a granddaughter of James R. Stewart, a Gospel preacher of long standing.
Brother Bill overcame a number of forbidding circumstances and surfaced as one of God's greatest.  He was raised in, and is proud of, a rural background.  He knows what it is to be abased and how it is to abound.  He has a good mind and is a keen student of the Bible.  He can engage anyone in serious studies of the Scriptures beyond the routine level.  He is well loved and respected in the States and is doing a good work in Malawi.
Old Paths Pulpit No. 2, Lynwood Smith, 1978, p. 322.
Brother Bill Davis was a faithful preacher of the gospel.  He had a large library and he used his library.  He was well read and, as Brother Lynwood observed, Brother Bill was capable of discussing the scriptures "beyond the routine level."  His sermons were "beyond the routine level" as well.  Many speakers have "three points and a poem" and they are loved and appreciated and asked to return.  The speakers who are loved and appreciated do not necessarily have three scriptures and a poem.  Three points without scripture are enough to satisfy many.  Brother Bill's sermons were filled with scripture and rarely, if ever, contained poems.  I knew every time I went to hear Brother Bill preach I would learn something.  I cannot say that about all men, but I can say that about Brother Bill.  His knowledge and study of the scriptures surfaced when he preached.  He had sermon notes but he did not practice rote reading from those notes.  He didn't have to read, because he knew his material.  His notes were aids not crutches.
Occasionally Brother Bill would call me on the phone and ask a Bible question.  He was not asking to test me and "see where I stood."  He was asking because he was trying to learn something.  "Why would Bill Davis call me and ask me a question?" I would ask myself.  I was young enough to be his son.  What could he possibly learn from me?  Brother Bill left the impression of being a humble man who could learn from others – even those much younger than himself.  He never acted as a "know-it-all" who could not be reasoned with.
Brother Bill was a reasonable man.  He could be reasoned with, but your reasoning had better be sound.  He would not be moved by lame and weak arguments.  Yet, if the reasoning and argumentation were sound, he was capable of changing his mind and his position.
Brother Bill was not one fond of the spotlight.  He was content to be in the background.  He was never really the center of attention as I recall.  Some preachers are loud and want the spotlight.  Some want the best teaching slot in a gospel meeting – the "night of the big crowd."  Brother Bill was content to preach whenever called upon and did not seem to need the attention others crave.  Perhaps this quality is what made him best suited to work in Africa for so many years.
Brother Bill was conservative.  He did not endorse the foolishness which is now sweeping our brotherhood.  He believed salvation was by faith, but he also believed the faith that saves was the faith that was obedient to the Lord in baptism (Acts 2:38; Mk 16:16).  He did not believe in modern-day miracles, anointing with oil, etc. – simply because the NT taught the ceasing of miracles (1 Cor 13:10-13).  He did not believe in women speaking in the services of the church – responding to remarks of the speaker, reciting the 23rd Psalm, making announcements, etc. – because the NT taught it was shameful for women to speak in the assemblies conducted by the church (1 Cor 14:34-35).  He believed in one undivided assembly wherein one man spoke to one audience with the women remaining silent (1 Cor 14:23-40).  For this reason, he opposed the use of Bible classes.  He believed in a single loaf of unleavened bread for the Lord's supper (1 Cor 10:16-17) and a single communion cup which all the brothers and sisters of the assembly shared together (1 Cor 11:25).  For this reason, he was opposed to individual communion cups and a plurality of loaves.  He believed there was only one church acceptable to the Lord – one church for which the Lord died (Eph 4:4; 1:22-23; 5:23-25).  He believed the Holy Spirit operated in the lives of men thru and only thru the written scriptures (Eph 5:18-19; Col 3:16).  He did not ascribe to a personal-literal-indwelling of the Holy Spirit operating upon and influencing Christians separate and apart from the word of God.  He believed the Holy Spirit was active in the lives of Christians, but he believed correctly the Spirit always operated upon Christians (and all men) thru a medium.  He understood that a direct (immediate) operation of the Holy Spirit upon men was Calvinism – not NT doctrine.  He believed the medium (instrument) thru which the Spirit always operated upon men was the written scriptures (Eph 6:17).  He believed the divorce and remarriage laws of the NT applied only to the innocent Christian (Mt 19:9).  He did not believe the guilty fornicator had the right to divorce an innocent spouse nor did the guilty party ever have the right remarry.  Many would criticize him for these stands on the "marriage question," but they dared not discuss it with him.
Brother Bill was not liked and appreciated by everyone because of the stands he took on various issues.  Men who stand for nothing are never criticized.  Brother Bill would be criticized because he stood for things.  "Woe to you when all men speak well of you, For so did their fathers to the false prophets." (Lk 6:26).  Show me a man with few enemies and I'll show you a man who stands for nothing.  Nor was Brother Bill vague about where he stood.  Everyone knew what he believed.  Some view themselves as "standing for the truth," but they themselves are the only ones who believe it.  Their stand is so veiled and vague that their "stand" goes unnoticed or unappreciated.  Not so with Brother Bill.  Though some might not agree with his positions, yet they knew where he stood.
Brother Bill's voice was silenced when he died, of course, but fortunately some of his sermons were recorded.  To that degree his voice can still be heard.  I found the following recordings in a box and I post them for those who never had the privilege of hearing Brother Bill preach.  Perhaps others who did hear him preach will appreciate once again hearing his voice proclaim the wonderful gospel of Jesus Christ.
These sermons were preached at Jonesboro, Georgia when Brother Bill came to hold an eight-day gospel meeting from March 31 thru April 7, 1996.  The exact day when two of these sermons ("Who's To Blame If …" and "Ephesians 3") were preached is unknown.  I have labeled the sermon "Who's To Blame If …" as having been preached on "April 1, 1996" and the sermon "Ephesians 3" as being preached on "April 2, 1996," but this is only a guess on my part.  There was one other sermon preached during the course of that meeting, but unfortunately I do not have a copy of that recording.
George Battey (November 28, 2012)
---
Click each sermon to listen
Bill Davis – Hardening of the Heart – 3-31-96 AM
---
Bill Davis – The Worthy Life – 3-31-96 PM
---
Bill Davis – Who's To Blame If — 4-1-96
---
Bill Davis – Ephesians 3 – 4-2-96
---
Bill Davis – The Kingdom of Heaven – 4-4-96
---
Bill Davis – Behold The Man – 4-5-96
---
Bill Davis – Respect For Parents – 4-6-96
---
Bill Davis – Behold The Lamb – 4-7-96 AM
---
Bill Davis – Homesick for Heaven – 4-7-96 PM